Land(e)Scape is a sensory based installation exploring concepts of death, change, cycles and dormancy through the seasons of the Minnesota landscape. I shot videos throughout the year of 2019 and composed them into four vignettes to guide participants through a visual meditation.
The language came from reflecting on the seasons, and the lessons Minnesota's natural landscape offers. I wrote poems/meditations during each season and edited them in conjunction with the films.
Eight of post and rung Shaker stools were hand carved from elm cut down from Dutch Elm Disease milled by Wood From the Hood. The Shaker tape tops were be dyed with local plants: horsetail, jewelweed, nettle, tansy, sumac, comfrey, and elderberry.
The tea comes from the prairie, some from my backyard, some from Minneapolis parks.
This contemplative room will question our resistance and struggle to winter and at a deeper level death, while turning to nature as a teacher to cope and grow through the seasonal hardships.
I don't know when the first nightmare happened, but for the past decade I have had a reoccurring dream of a tsunami coming and washing away everyone I loved. We would be on the beach, sun out, warm sand, and then a wall of water would come. I would look around and see all my loved ones. Their blank stare would mirror my own as the water approached. I knew I couldn't help them face death, because I would have to face my own alone. The hardest part was seeing my dog Scout on the blanket beside me and not being able to explain death to her. Her innocence unprotected. Then, the wave comes, and I am trapped in an eternal tunnel of water, rolling endlessly. Thats normally the point that I would wake up gasping for air.
I have this dream every couple of years. I can't remember the last time I had it, but I know it will come again.
I started watching videos of tsunami's when Scout succumbed to her short battle with cancer. Holding her sweet little body as she shook with the waves of a seizure, I felt the same helplessness as I did in the dream, knowing the wave had to be faced each individually. Scout died a month before the opening of Land(e)scape. I had hoped this past year's work of watching the Minnesota landscape move through the cycles of loss and rebirth would help with the grieving process. Nature is so good at death. It doesn't ask for forgiveness. It just pulls the energy into its new formation.
At the opening of Land(e)scape we gently talked about the hardships of winter. The sun hadn't come out for two full weeks. The prairie flowers projected on the walls were warmly welcomed. Talk of season depression, the political weather, and the healing of exercise and saunas circulated among visitors sitting at the table. The table was built from Elm that had died or been taken down because of Dutch Elm Disease.
Land(e)scape hosted the Women & Non-binary Spoon Club the following Sunday. The sun had come out and faded the projections. They were no longer needed. We shared knife techniques and knowledge of how certain oaks can protect themselves from blight by blocking off chambers in their cells. I had spent the morning on the floor of my bedroom facing the grief tsunami. Coming together with gentle souls and busy hands soothed my heart's pain. I spoke about my episode and the sweet group offered condolences and resources for healing: forest bathes, Heart of a Dog by Laurie Anderson, Companion Species Manifesto, and strong hugs.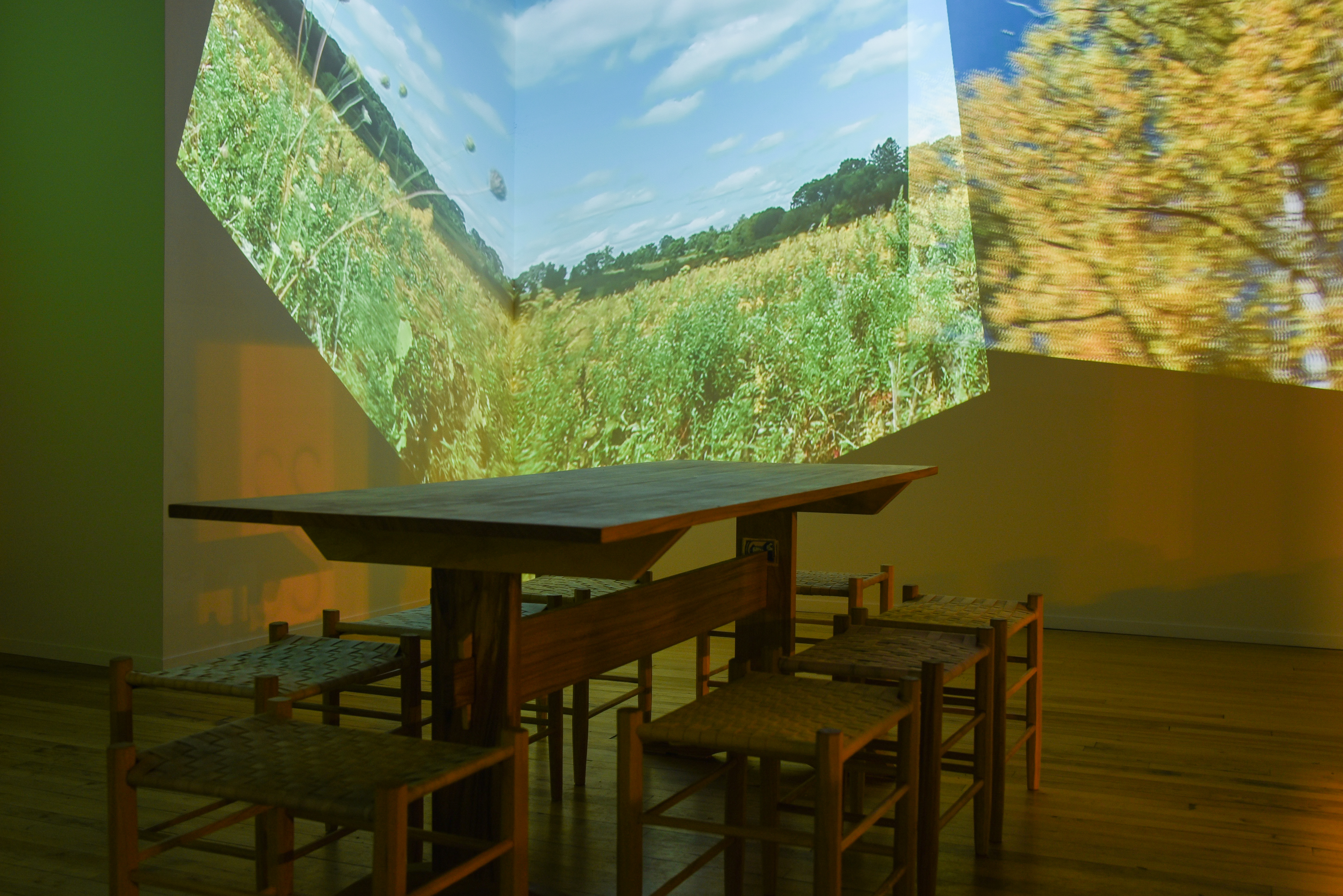 GIGANTIC THANKS to my translators!
Paola Estrada: Spanish Translation
Sandy Lo: Hmong Translation
Ahmed Yusuf: Somali Translation
GIGANTIC THANKS to the MN State Arts Board for supporting this project financially. To Chris and Kriss at Second Shift Studio for hosting the exhibition.To my partner, Conor who wrangled the dogs while I was videoing the prairie. To Rose, who taught me how to make shaker stools. To all my friends and family that have supported me this year. To Scout, my sweet pup who left this earth this year and is teaching me through grief and love.
Jess Hirsch is a fiscal year 2019 recipient of an Artist Initiative grant from the Minnesota State Arts Board. This activity is made possible by the voters of Minnesota through a grant from the Minnesota State Arts Board, thanks to a legislative appropriation from the arts and cultural heritage fund.